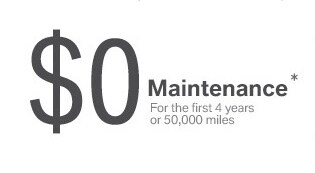 $0 Maintenance
For the first 4 Years of 50,000 Miles
Engine Oil Service
Inspection Services
Wiper Blade Inserts
Brake Pads
Brake Discs
Engine Drive Belts
Brake Fluid Service
We design extraordinary cars. It only seems right to offer a service plan to match.
Only BMW offers a comprehensive suite of premium vehicle maintenance services for absolutely no cost: buy a BMW now and pay no maintenance costs for 4 years or 50,000 miles, whichever comes first.
Featuring the following services, BMW Ultimate Service lives up to its name:
New Vehicle/SAV Limited Warranty:

This warranty covers defects in materials or workmanship for the first four years or 50,000 miles, whichever comes first, so you can rest assured your BMW will perform as expected.

BMW Maintenance Program:

One of the most comprehensive maintenance programs in its class, covering all factory-recommended maintenance services during the New Vehicle/SAV Limited Warranty Coverage Period, as well as specific items that require replacement due to normal wear and tear, such as brake pads, brake discs and wiper blade inserts.

Four years of the BMW Assist Safety Plan:

Many 2007 and later models include a four-year, unlimited mileage subscription to the BMW Assist trade; Safety Plan including TeleService, an exclusive BMW benefit which allows your vehicle to contact your BMW center directly when it needs service or maintenance.

Unlimited-Mileage Roadside Assistance:

Receive Roadside Assistance 24 hours a day, 365 days a year for the first four years of ownership, without any mileage limitation.
No other premium automaker provides such comprehensive benefits for absolutely no cost. So while other car owners will incur from several hundred to over one thousand dollars of maintenance or repair costs during the first 4 years they own their vehicles, you pay nothing for the first 4 years or 50,000 miles.
After you've bought a new or new-to-you BMW, you're going to want to ensure that your vehicle is always running at its best. That's why you should schedule BMW service at our on-site BMW service center! At our BMW dealership in Spring Valley, NY, we have a full-service station with experienced technicians that can handle any issue. Whether you need an oil change, tire rotation, wheel realignment or even more intricate repairs like transmission or engine service, know that our team is here to help.
Learn about the BMW model you own and find out about its regular maintenance intervals so you can bring it in when it needs to be looked at. This way, you can be sure you're enjoying a top-notch driving experience every time. Plus, we offer BMW service specials that will help you save on your vehicle's maintenance and repairs. When your BMW needs service, be sure to come to the Wide World BMW service center!